The Advantage of 24 V Input Voltage Ionizing Air Bar
Views:20 Author:Site Editor Publish Time: 2017-05-22 Origin:Site
The principle of ionizing air bar is through the form of high-pressure corona release of the ion, the domestic normal voltage of 220 volts, and the general ion wind bar input voltage is only 24 volts, which requires two voltage converters. That kind of design can bring a lot of advantages and benefits.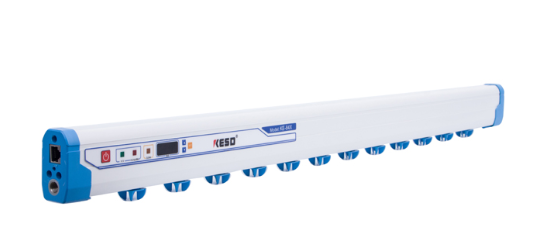 Now the general mechanical equipment can be used directly to the voltage is 24 volts, and ion wrenches are assembled in the equipment on the auxiliary use, so you can directly access the power from the device, not only to facilitate the assembly, but also a better space savings ; The second point is the voltage of 24 volts in the use of the process is relatively safe, and will not cause too much interference to the production of production personnel or other equipment; ionizing air bar built-in high-voltage generator, directly from the 24-volt fast upgrade To 2200 volts of high pressure, faster and more convenient. So most manufacturers will use the current 24-volt input voltage.
KESD ionizing air bar also uses such power supply. Customers can choose network interface to connect device directly and also can connect 220 volts of household electricity through the power adapter. Everything is designed from the point of view of customer.